About Us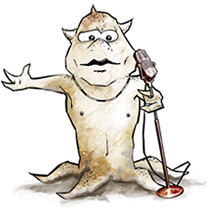 Whether you're here to be heard, or just want to listen to some really great music, you're in the right place! ;)

BandAMP is a digital hub connecting musicians — through collaboration we hope to forge a global society of musically talented individuals.

There are tons of features designed to improve your talent. Foremost, our community: Here, you'll find the members to be generous, helpful and kind... Professional musicians, soon to be rock stars, and beginning musicians all contribute. It's positively an interesting mix.

How's it work?


We believe competition can catalyze merit to the paragon of perfection. When you submit an original piece of music to BandAMP, you're taking advantage of a very lucrative opportunity: an opportunity unique to this generation. I'm not referring to the prizes, vanity or promotion ;) BandAMP's best feature is it's community: musicians from around the world offering unique perspectives & insights. In those rare moments when you can transcend ego and engage their critiques, you may expand your own artistic reach.

In order to compete in the current battle you must submit your song before September 10th. You get one chance per month to win; so submit your best, while you work hard on your next.

Songs are ranked by the members of this site; this means you and your contemporaries. Please be honest, as admins' have the ability to track down deviant votes and delirious praise.

There are prizes for the 1st / 2nd / and 3rd place composers (which must be collected). What are the prizes for this months competition, you ask? Zoom to the FAQs!

Abuse Inc.


The purpose of this contest, and the forum provided, is to bring musicians together. Accounts found to be abusing the system will be suspended indefinitely.

Read the Rules / License before joining, thank you!

Have Fun! ;)